Take a look at information about our recommended heartworm preventatives for dogs and cats. The veterinarians at Guilford Animal Medical Center recommend heartworm preventative monthly, year round. Specials and Promotions are available on most products. You can order refills on your medications and preventatives here.
---

The doctors at Guilford Animal Medical Center recommend Heartgard Plus preventative year round for dogs. In addition to prevention of heartworm disease Heartgard Plus will prevent the most common intestinal parasites that your dog can pick up from the environment.
 BUY 6 HEARTGARD PLUS & GET 2 FREE
---
Cat's get Heartworm Disease too and it is a silent killer. Protect your cat with monthly Revolution.
Revolution for cats safely prevents fleas, flea eggs, heartworms, ear mites, roundworms and hookworms in cats.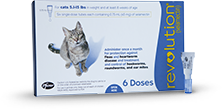 Even if your cat is indoors, prevention is recommended year round especially since heartworm disease is very difficult to diagnose in our feline companions, and nothing 100% prevents mosquitos, fleas and certain intestinal parasites from coming into the house. In fact, 40% of all potting soil harbor roundworm eggs
---
COMING SOON!!!!
We will now be carrying Interceptor Plus for dogs! Soft non-beef chewable tablet prevents against heartworm, roundworm,hookworm, whipworm and tapeworm!