At Guilford Animal Medical Center, we try to make the pet and human bond as strong and healthy as it can be by intervening at all phases of life, from the time before a pet is added to a family, through the early period of establishing a sound preventive medical program, and by maintaining good health through programs for optimal nutrition, dental health, early disease detection, and successful intervention when illness or injury occurs. It is our deepest wish that our care for your pets will help them to live long and productive lives as members of your family.
-Dr. Kumar and the Staff at Guilford Animal Medical Center.
August 21st 2018: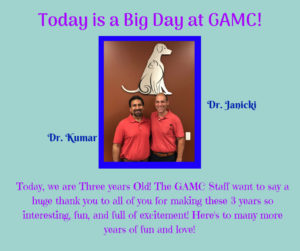 In the News
December 6, 2018

With the holidays just weeks away, don't forget to add your pets to your shopping…
Connect with us!
Here at Guilford Animal Medical Center we want to be connected with you! Follow us on Facebook, Instagram, Twitter, download our app, and email us! We love to see pet selfies, hear and share news regarding you, your pets, and the world around them! Here at Guilford AMC we are a family and we love to hear what you share!